Each step of the King salmon journey is one of care and consideration. The Ōra King process can be tracked through three stages of preparation: freshwater, seawater, and processing.

1 - OUR HATCHERIES
New Zealand King Salmon, the parent company for Ōra King salmon, has been running a comprehensive freshwater breeding programme for over 25 years. We have three facilities located throughout the South Island of New Zealand.
2 - BROODSTOCK SELECTION
Broodstock are monitored throughout their lives through DNA sampling. Each year, our salmon are assessed for specific performance traits and independent analysis helps us determine which salmon are best for production and which will be the next generation of broodstock.
3 - BROODSTOCK SPAWNING
Our female salmon are hand sorted to assess the perfect time to remove their eggs. The harvested eggs are then fertilised and incubated. This spawning process can start in November and finish in July of the following year.
4 - HATCHING
After fertilisation, the eggs are incubated for a short time before hatching. By controlling the temperature during this period, we can delay egg development, which enables us to have a year-round supply of fresh salmon.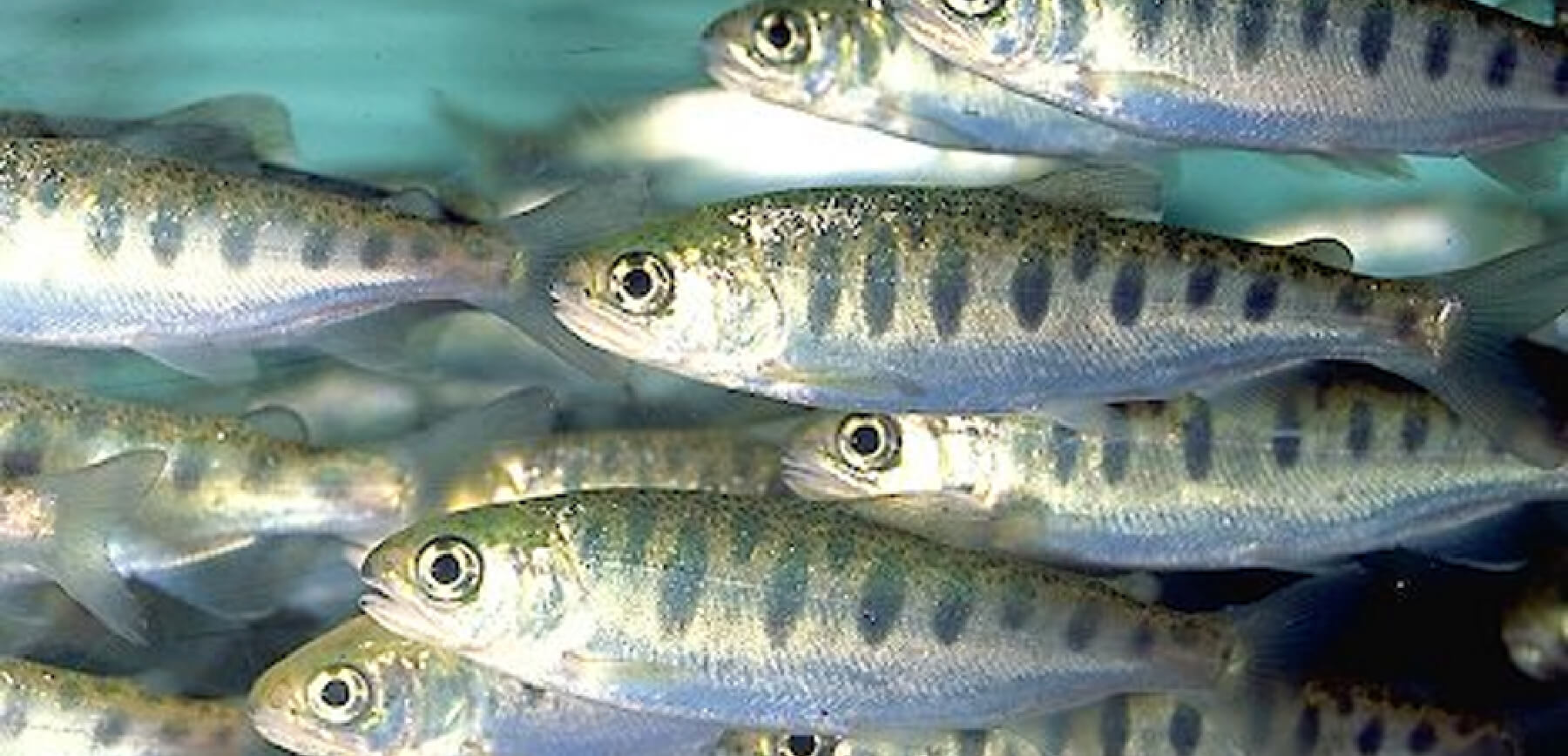 5 - GROWING
When the eggs hatch, they are known as Alevin. They then progress into the 'Parr' stage and finally onto 'Smolt', when they become physiologically capable of surviving in sea water. This entire process takes around 8 months and involves physical changes such as the development of silver skin, eye colour changing to yellow and their mouth and fins turning black.
6 - FEEDING
The first feeding commences one month after hatching. Initially, salmon are fed by hand and as they grow this becomes automated. In preparation for life at sea, they are fed a specially formulated diet to help them adapt to the marine environment.
7 - ASSESSMENT
Throughout the growth process the salmon are methodically assessed. Smolt undergo quality and size grading. They also receive a special health check before they are transferred to sea.
8 - TRANSFER
Custom-made tankers maintain a cool environment, they automatically oxygenate and remove the CO2 from the water. Once the road trip from the hatchery to the wharf is complete, the tanker travels by boat to the sea farm for final transfer into individual pens.

1 - SUSTAINABLY FARMED
We operate a number of sea farms in the Marlborough Sounds, at the top of the South Island in New Zealand. Our operations are independently audited and these certifications and ratings support our ongoing and substantive efforts to maintain our environmental integrity.
2 - ARRIVAL OF SMOLT
Smolt arrive in custom-made tankers which are designed to maintain a cool, oxygenated environment. Each batch of smolt are transferred to a dedicated pen. In order to minimise stress, there is no handling of the fish while they grow.
3 - FEEDING
King salmon require a unique diet for optimal health and growth, and the formulation of this diet changes throughout their lifecycle. The main components of the feed are complex fats and quality proteins, along with carbohydrates and essential vitamins and minerals. Salmon are fed several meals a day — more often when they are smaller, and less often as they grow. Underwater cameras closely monitor appetite and activity during each feed, to ensure our salmon receive just the right amount.
4 - HARVEST
Our Ōra King salmon typically take around 18 months to reach an optimal harvest weight of around 4kg. They are then harvested humanely following a similar method to the Japanese 'ike jime' technique and transported on ice by specialised tankers straight to our Nelson processing facility.

1 - ARRIVAL
Whole salmon arrive at the factory for processing on the same day they are harvested. The salmon are washed and temperature checked.
2 - INITIAL PROCESS
Our salmon are prepared and thoroughly washed to ensure the highest standard of hygiene before they are graded and packed.
3 - GRADING
Each salmon is hand-graded by a specially trained Master Grader who carefully inspects the fish internally and externally. The grading process divides the salmon into three categories — Ōra King grade, Premium grade and Standard grade.
4 - WEIGHING AND PACKING
Each salmon is individually weighed and has a uniquely numbered gill tag attached. This allows traceability all the way back to the broodstock. They are then packed into specially designed Ōra King cartons.
5 - DISPATCH
Whole salmon typically leave the factory within 24 hours of harvest. Fresh whole salmon are air-freighted to countries around the world.
6 - ŌRA KING FILLETS
We fillet, trim and hand-pinbone Ōra King fillets. We also offer a smoked Ōra King fillet, which is gently cold smoked with manuka wood — native to New Zealand.